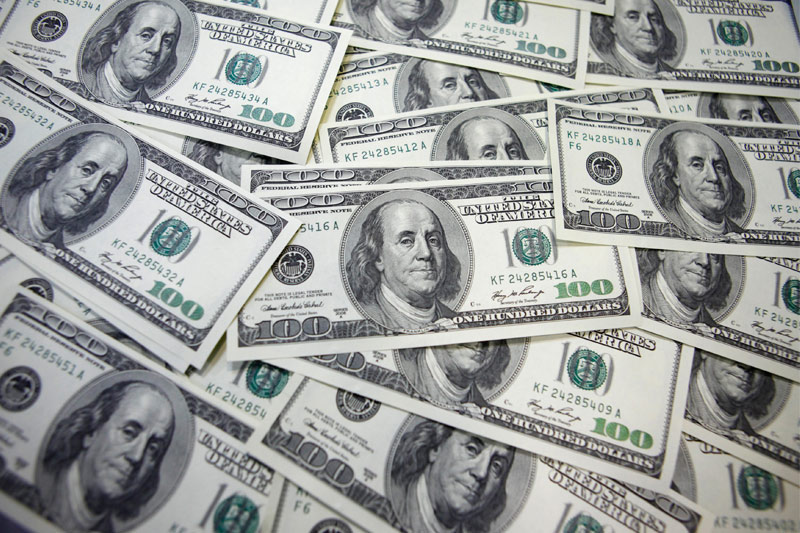 The U.S. dollar fell on Friday.
Investing.com – The euro remained higher on Friday, as the U.S. dollar fell and trade concerns lingered.
EUR/USD rose 0.26% to 1.1633 as of 11:24 AM ET (15:24 GMT) after French and German business activity in June came in higher than expected, easing concerns of a slowdown in the eurozone.
The pound was also higher, with GBP/USD rising 0.20% to 1.3268.
The U.S. dollar index, which measures the greenback's strength against a basket of six major currencies, was down 0.19% to 94.36.
Trade tensions between the U.S. and its allies continued, as the European Union imposed tariffs on about $3.4 billion of U.S. imports on Friday, including motorcycles, jeans, and whiskey in retaliation for U.S. President Donald Trump's steel and aluminum tariffs.
Trump tweeted in response to the tariffs that if the EU did not remove the tariffs "we will be placing a 20% tariff on all their cars coming into the U.S."
The tariffs have added to tensions as investors fear an outright global trade war between the U.S. and other major countries.
The greenback was also held back by a decline in the Philadelphia Federal Reserve's manufacturing index on Thursday. The index fell to a one-and-a-half-year low, increasing concern about the strength of the U.S. economy.
The dollar was lower against the safe-haven yen, with USD/JPY decreasing 0.07% to 109.91. In times of uncertainty, investors tend to invest in the Japanese yen, which is considered a safe asset during periods of risk aversion.
Elsewhere, the Australian dollar was higher, with AUD/USD up 0.65% at 0.7425, while NZD/USD rose 0.39% to 0.6894. The loonie was lower against the greenback, with USD/CAD up 0.14% to 1.3333.
sponsoredArticle = 'div-gpt-ad-1466339494851-0';