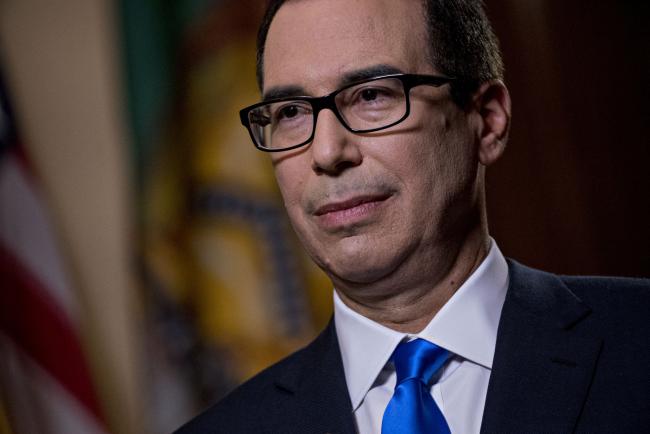 © Bloomberg. Steven Mnuchin
(Bloomberg) — U.S. Treasury Secretary Steven Mnuchin rejected the IMF's forecast that tax cuts will give the economy only a temporary boost, sticking to the Trump administration's stance that they'll provide fuel for the long run.
Mnuchin has consistently projected a strong economic outlook, saying he expects the U.S. to reach sustained gains in gross domestic product of 3 percent or higher. The IMF, in a report on the U.S. published Thursday, sees GDP growth accelerating in 2018 before easing to just 1.4 percent in 2023.
"In my discussions with Secretary Mnuchin he was clear that he regards our medium-term outlook as too pessimistic," IMF Managing Director Christine Lagarde said during a press conference in Washington tied to the report.
The Trump administration disagreed.
"While we appreciate the IMF's work on their report and share similar short-term forecasts on U.S. economic growth, we differ significantly on the medium and long-term projections," the Treasury Department said in a statement released during Lagarde's press conference. The Trump administration's policies, such as "the productivity-boosting mix of tax reform and regulatory relief, will result in more sustainable economic growth."
Asked about Treasury's statement on Thursday, Lagarde said, "We agree to disagree. I hope they're right — but we might not be wrong."
sponsoredArticle = 'div-gpt-ad-1466339494851-0';