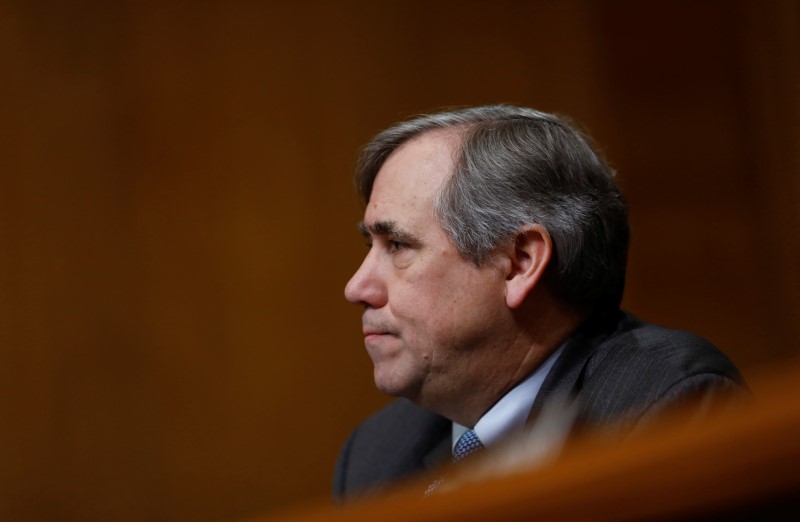 © Reuters. U.S. Sen. Jeff Merkley (D-OR) speaks during a U.S. Senate Committee on Environment and Public Works meeting on Capitol Hill in Washington
By Sarah N. Lynch
WASHINGTON (Reuters) – Congressional Democrats from Oregon said on Monday they are fearful that immigration detainees being held in a federal prison in Sheridan do not have access to lawyers for advice on their civil immigration cases.
In a June 11 letter to Thomas Homan, the acting director of U.S. Immigration and Customs Enforcement (ICE), the states' two U.S. senators and four of its House of Representatives members demanded that ICE act immediately to ensure that detainees have "prompt access to legal service providers through free telephone calls."
The letter comes just a few days after Reuters first reported that ICE had entered into a 120-day agreement with the Bureau of Prisons (BOP) and U.S. Marshals Service to house up to 1,600 detainees awaiting civil immigration proceedings, including asylum petitions.
The deal involves five federal prisons, including one in Sheridan, Oregon. It was made after ICE ran out of bed space to carry out what the Trump administration has described as a zero-tolerance policy on immigration.
The prison in Oregon is expected to house up to 130 of the detainees.
But the agreement came together with little notice provided to prison workers, and immigration lawyers say the situation is making it hard for detainees to get access to legal advice.
President Donald Trump has made his hard-line stance on immigration an integral part of his presidency and has promised to build a wall along the U.S.-Mexican border to stem the flow of migrants.
He has also promised to keep immigrants targeted for deportation locked up "pending the outcome of their removal proceedings," and the government is separating parents and children who cross the border illegally.
Under former President Barack Obama, many immigrants without serious criminal records were allowed to await their court dates while living in the United States. Others were housed in immigration detention facilities or local jails.
ICE has used federal prisons in the past, but not on this scale, current and former government sources said.
"We are deeply concerned by reports that BOP and ICE are hindering detainees' access to legal counsel, consular staff, and family communication in this facility," wrote Senators Jeff Merkley and Ron Wyden, along with Representatives Suzanne Bonamici, Earl Blumenauer, Peter DeFazio and Kurt Schrader.
An ICE spokeswoman said in a statement to Reuters, "U.S. Immigration and Customs Enforcement (ICE) is currently coordinating with the Bureau of Prisons (BOP) and working to ensure that detainees have appropriate access to their legal representatives."
sponsoredArticle = 'div-gpt-ad-1466339494851-0';