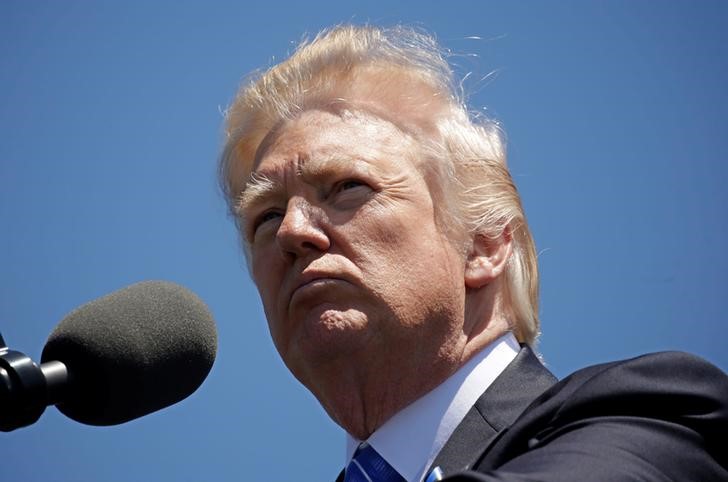 © Reuters. Trump Tariff Paradox Glimpsed in China's Abyss
(Bloomberg Opinion) — China's economic growth appears to be coming off the boil. That makes the prospect of a trade war more, not less risky.
Data out Thursday came in unexpectedly weak, with retail sales rising at their slowest annual pace since the 2003 SARS outbreak and fixed-asset investment putting in its worst performance since 1999.
It's tempting to regard that as evidence the economy is on its knees, and susceptible to some strong-arming from Washington. President Donald Trump plans to announce Friday a final list of tariff targets, promising a very strong clampdown on trade "over the next couple of weeks" in an interview with Fox News that aired Wednesday.
Such a sanguine attitude would be mistaken.
China has a tried-and-tested way of dealing with periods of weakness: Fire up the country's industrial machine via lavish construction and engineering spending, fueled by a splurge of credit from state banks. Those levers were pulled in the wake of the 2008 financial crisis and then in the period leading up to last year's Communist Party Congress. Expect the country's leadership to reach for them again in the face of a trade-war-induced collapse in exports.
That outcome would be disastrous, taking China further away from the economic goals that, oddly enough, are shared by leaders in Beijing, Washington and around the world.
The fundamental problem for China's economy is that its people fear for their future. Rather than spending their newfound wealth on American products like holidays at the Grand Canyon, imported Lincoln Continental cars and KitchenAid stand mixers, for decades they've been socking it away for a rainy day.
With about 15 percent of the global economy, China accounts for 27 percent of its savings, a larger share than any other country. Only three nations had a higher savings rate than the 46 percent China recorded in 2015: East Timor, Brunei and Suriname.
In the 2000s, this tendency fueled global savings imbalances that contributed to the 2008 financial crisis. Chinese funds were plowed into U.S. Treasuries, weakening the yuan and stimulating Chinese exports while driving down U.S. borrowing costs and helping stoke a housing bubble that ended up destabilizing the world economy.
The near-elimination of China's current account surplus since then simply squeezed the balloon of excess savings. Instead of being invested in rich-country bonds, they were put to work building a 25,000-kilometer high-speed rail network, five of the world's 10 tallest buildings, and about 16 billion square meters of residential property – enough to house almost half the population in brand new 80-square-meter apartments .
This is an addiction that China has to break if it wants to end a tendency toward unproductive investments and curtail the alarming levels of debt described by my colleague Christopher Balding. And indeed, the abolition of presidential term limits last year raised glimmers of hope that more autocratic rule might at least give President Xi Jinping the political space to grasp the nettle.
The trouble is, every time China's leadership finds itself with the appetite for the long-awaited rebalancing away from investment and toward consumption, it finds itself staring into a terrifying abyss of slowing growth.
That's the most worrying aspect of Thursday's data release. Beijing has been trying to take its foot off the accelerator of state fixed-asset investment almost since it tapped it two years ago, but private investment clearly hasn't been sufficient to fill the gap. The weakness in retail sales, too, underlines the quandary that China's consumer spending tends to be strongest when incomes are rising fast thanks to that good old-time industrial stimulus.
The paradox is that both Trump and Xi want the same thing: a Chinese economy more focused on consumption that might result in greater purchases of American goods and services. By threatening its exports, Washington is ultimately more likely to return it to bad old habits.
China's long-awaited economic rebalancing is a fragile flower. A trade war could trample it.
sponsoredArticle = 'div-gpt-ad-1466339494851-0';